A U.S. district judge decided that XRP was not a security after Ripple's victory over the United States Securities and Exchange Commission; the token's price has since surged sharply.
Among the top 25 cryptocurrencies, the token native to the Ripple payment system had the best 24-hour performance. XRP has regained the number four spot by market capitalization, moving past Binance's problematic BNB coin.
Importantly, XRP held its ground, unaffected by the turmoil gripping the broader crypto market as the leading cryptocurrency Bitcoin threatens to lose its grip on the crucial $30,000 handle, and many altcoins begin the day in a sea of red.
XRP is a cryptocurrency that Ripple employs to transfer funds internationally. With a market capitalization of $37.8 billion, it is the fifth-largest cryptocurrency in circulation.
XRP Dominates The Weekly Timeframe
According to crypto market tracker Coingecko data, XRP was trading at $0.814, an increase of nearly 10% over the previous 24 hours. At the time of writing, however, it was in the weekly timeframe that the token proved its worth, skyrocketing by nearly 68%.

Source: Coingecko
Bitcoin (BTC) and ether (ETH), the two largest cryptocurrencies by market capitalization, are currently trading below their psychologically significant price levels of $30,000 and $1,500, respectively.
Although Bitcoin's price has been fluctuating around the $30,000 mark recently, Jake Boyle, Chief Commercial Officer of Australian crypto exchange Caleb & Brown, has stated that significant price changes are unlikely unless certain crucial events transpire.
For the past three years, Ripple has fought the SEC on claims that the company and two of its executives made an illicit $1.3 billion in sales of XRP. Ripple has refuted these allegations, maintaining that XRP is more akin to a commodity than a security.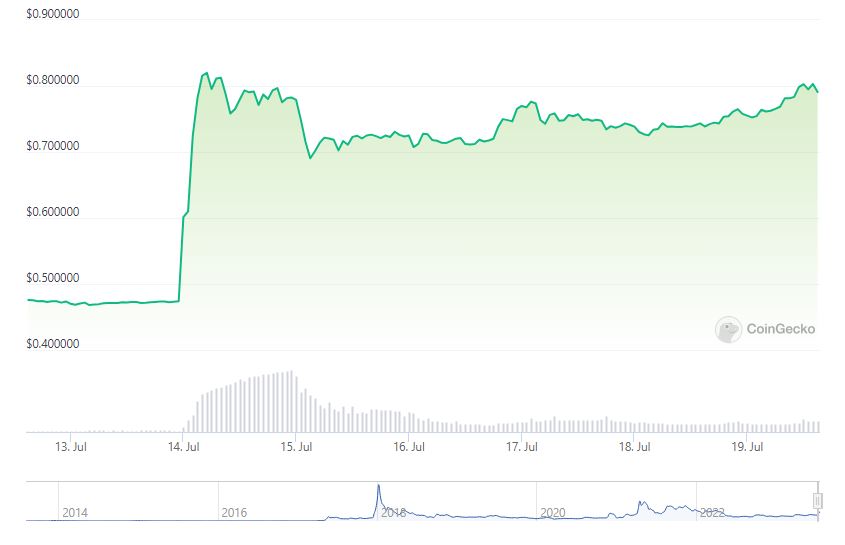 XRP price movement in the weekly chart. Source: Coingecko.
A Watershed Moment For Ripple
The SEC Ripple lawsuit's ruling was a significant moment for cryptocurrencies. Although XRP was deemed not a security, certain token sales were classified as securities transactions. This decision sheds light on the regulatory status and classification of cryptocurrencies by the SEC, impacting the entire industry.
It may trigger discussions and lead to clearer regulations for digital assets, boosting investor confidence and fostering a more stable market. The ruling's ripple effects (no pun intended) may extend globally, influencing other countries' regulatory approaches.
XRP market cap currently at $41.5 billion on the daily chart: TradingView.com
Regulatory Clarity A Must
As the cryptocurrency ecosystem matures, regulatory clarity becomes crucial for striking a balance between innovation and consumer protection. Market participants will closely monitor how this ruling shapes the future of cryptocurrency regulation.
Meanwhile, if the court had sided with the SEC, it might have established a negative precedent for treating other cryptocurrencies, opening the door to more stringent regulations and control.
This would have repercussions for any venture with an initial coin offering (ICO) or token sale, including Ripple and XRP.
(This site's content should not be construed as investment advice. Investing involves risk. When you invest, your capital is subject to risk).
Featured image from Muscle & Fitness