The year 2022 has not been kind to the NFT market and the crypto industry as a whole. However, Hedera's partnership with LG Art Lab might somehow bring a new wave of enthusiasm for digital art. 
NFT Interest On The Rise Again? 
A recent interview done by Crypto Digest with The HBAR Foundation's Chief Legal Officer Jorge Pesok sheds some insight into the current state of NFTs in the Hedera L1 ecosystem.
According to the interview, more than 150 projects are granted support by the company. 
Pesok also mentioned that LG is rolling out its new television technology that is integrated with its native NFT marketplace where new users can buy digital collectibles. The TVs would also allow users to display the NFTs that they own.
Governing Council Member @LGElectronics has launched LG Art Lab – built on @Hedera – enabling LG TV owners to buy, sell and showcase #HederaNFTs from their screens. All LG TVs running webOS5.0 will be able to interact with the LG Art Lab app. #HelloFuturehttps://t.co/KQBUgaE2j5

— Hedera (@hedera) September 5, 2022
This can be huge for the NFT industry as LG has a large market share in the home appliance industry. However, recent events in crypto space might slow down the growth of interest in NFTs. Not to mention that the sector is not free from scams and frauds. 
Just this month, Logan Paul, a major influencer on YouTube, was investigated by Coffeezilla for defrauding his fans on his abandoned crypto project CryptoZoo. Despite these very negative developments for crypto and NFTs as a whole, we can expect a healthy adoption of digital art as LG continues to leverage this new technology.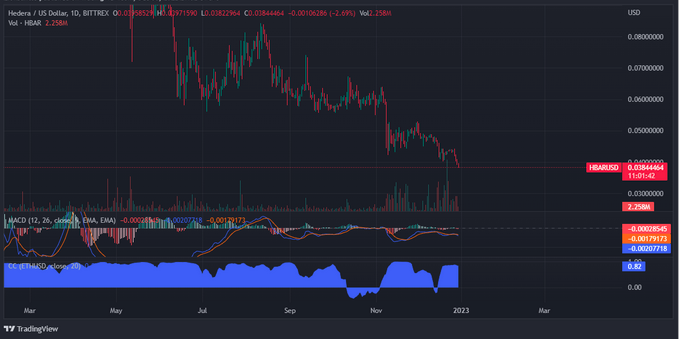 Chart: TradingView
Dark Horizons?
The crypto industry has taken a heavy beating courtesy of the collapse of FTX and the NFT space has been struggling ever since interest on digital items waned. But with LG's partnership with Hedera, we might see a brighter tomorrow for NFTs and the crypto market as a whole. 
However, this "bright future" doesn't come without losses. According to CoinGecko, Hedera's native token HBAR has seen better days with the token dropping 5.6% in the past 24 hours. 
The charts are also very bearish for the token. HBAR is heavily correlated with Ethereum. This means that if ETH continues to buckle under the bearish pressure, HBAR will follow the decline in value. 
Crypto total market cap at $963 million on the daily chart | Chart: TradingView.com
These short-term developments are in line with Jorge Pesok's thoughts on crypto and NFTs in its entirety:
"My prediction, at least in the short term, is that the industry will continue to face a bear market but will come out of it much more mature and garner more retail and institutional adoption" he said in the interview. 
As Hedera partners with more institutional entities like LG, Boeing, and Deutsche Telekom, we will see the company playing a bigger role in the adoption of digital assets with real world utility. 
–
Featured image: Adobe/S_E