Data shows Ethereum's year of high correlation with Bitcoin is coming to an end with the metric hitting ATH values.
Ethereum Ends 2022 With All-Time High Correlation To Bitcoin
According to the year-end report from Arcane Research, the global markets have all fallen strongly correlated this year. The "30-day correlations" is an indicator that measures how in-tune Bitcoin has been with another asset in terms of price movement over a 30-day period.
When the value of this metric is greater than zero, it means there has been a positive correlation between BTC and the other asset in the past month. On the other hand, negative values imply that the price of the crypto has been reacting to changes in the value of the other asset by moving in the opposite direction.
Also, the higher the metric value (in either direction), the more the degree of the correlation. Naturally, the metric has a value equal to zero suggesting the two prices aren't tied to each other at the moment.
Now, here is a chart that shows the trend in Bitcoin's 30-day correlations with Ethereum, S&P 500, and Nasdaq over the past year: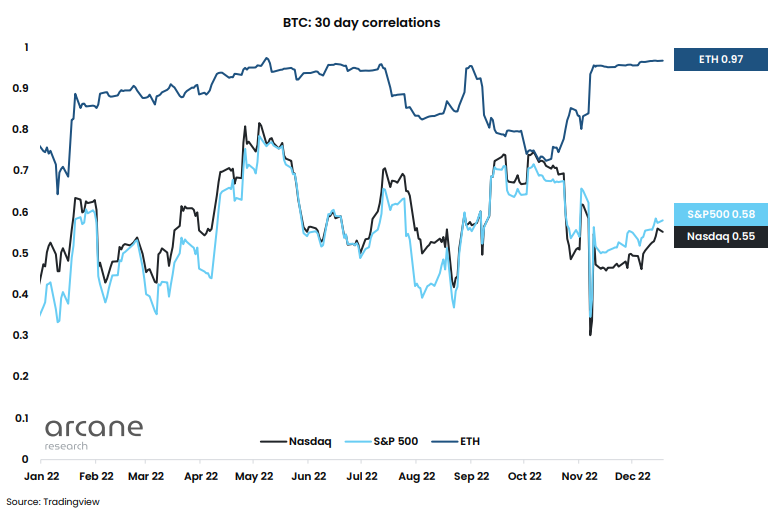 Looks like the metric's value corresponding to ETH has been very high in recent weeks | Source: Arcane Research's 2022 - Year in Review
As the above graph displays, Bitcoin positively correlated with these three assets during 2022. BTC's correlation has been around or above 0.5 for most of the year for the US equities, suggesting it has been decently tied with them.
The correlation with Ethereum, however, has been at values of around 0.9 or more, implying Bitcoin has been extremely correlated with it. Even now, as the year's end, the correlation between these cryptos stands at 0.97, around ATH levels.
Back in September of this year, ETH successfully finished its much-anticipated transition to a Proof-of-Stake consensus system, an event known as the Merge. Since the Merge brought some developments unique to Ethereum, the correlation with BTC dropped, as is apparent in the chart.
However, it wasn't long before the two started moving on the same wavelength again, so even the Merge wasn't enough to cause sufficient impact to separate the coins.
Also, since Bitcoin is highly correlated with stocks, so is Ethereum. Though, Arcane Research expects that this correlation between the cryptos and the US equities will soften in the next year due to trading volumes in the crypto market declining substantially.
ETH Price
At the time of writing, Ethereum's price floats around $1,200, down 2% in the last week.
ETH seems to have gone down recently | Source: ETHUSD on TradingView
Featured image from Pierre Borthiry – Peiobty on Unsplash.com, charts from TradingView.com, Arcane Research