Cardano is one of the altcoins that has been hit the hardest by the bear market. Created by former Ethereum co-founder Charles Hoskinson, the coin is 91.6% below its all-time high of $3.10, which was reached on September 1, 2021. Thus, ADA is performing much worse than its main competitor Ethereum. ETH reached its all-time high of $4.878 on November 10, 2021, and is currently about -75.4% below that level.
However, according to on-chain analytics service Santiment, there are early signs of a trend reversal. For instance, sharks and whales holding 100,000 to 10 million ADA have been accumulating aggressively over the past six weeks. As the analyst writes, there is currently a bullish divergence between price and whale activity.

A look at realized gains and losses also paints a bullish picture. According to the analyst, there are signs of seller exhaustion. "On every big price decrease there are fewer and fewer coins moving at a loss," the analyst notes.

Furthermore, the Santiment analyst says that Cardano (ADA) is facing a trading volume gap in the $0.19 to $0.26 range, where he expects the price to see "serious buying." 
"Based on the things mentioned above, I believe price will increase in value. However, without any other data, it is difficult to accurately assess the validity of this analysis," the analyst concluded.
Messari Research Assesses The Current State Of Cardano
An analysis of the state of the Cardano network was also published yesterday by Messari. In the research, the company provides interesting insights into the growth of the network, but at the same time, how it is lagging behind its main competitors.
As Messari notes, Cardano experienced an increase in DeFi activity in 2022, with daily transactions leveling off at around 60,000 since the second quarter, which equates to an average of around 0.75 transactions per second (TPS).
Cardano's DeFi TVL was approximately $78 million at the end of the third quarter of 2022. With a market cap of $14.8 billion, the project has a market cap/TVL ratio of 190, significantly higher than competitors Ethereum, Solana, and Binance with ratios of 6, 17, and 10, respectively, Messari said.
Despite its relatively late entry into the DeFi space, Cardano's TVL ranks 30th, with Minswap, WingRiders, and SundaeSwap dominating the DeFi ecosystem with 52%, 20%, and 19% market shares, respectively.
In the NFT space, Cardano is hosting 8,000 NFT projects and 15 marketplaces but is only generating an average monthly volume of $6.8 million. This, as Messari notes, is a far cry from industry leader Ethereum, which has over $150 million in monthly volume.
According to the analytics firm, Cardano's ethos of "building carefully and deliberately with extensive reviews" is one reason it forfeited a potential first-mover advantage with its proof of stake. According to Messari, the goal of the Hoskinson-led project must be to catch up with established ecosystems and capture market share in the near future.
[…] its market cap and decentralization are ahead of most competitors. However, Cardano's ecosystem is still far behind the competition despite its growth this year. Cardano's goal in the near future will be to catch up to established ecosystems and take some market share.
ADA Price Trapped In Downtrend
A look at the 1-day chart reveals that the ADA price has been in a downtrend channel since August, which could spell further doom. At a current price of $0.251, the ADA price is as low as it was last in January 2021.
To initiate an uptrend, ADA would first need to reclaim the 50-day moving average at around $0.30 in order to break out of the trend channel at around $0.34.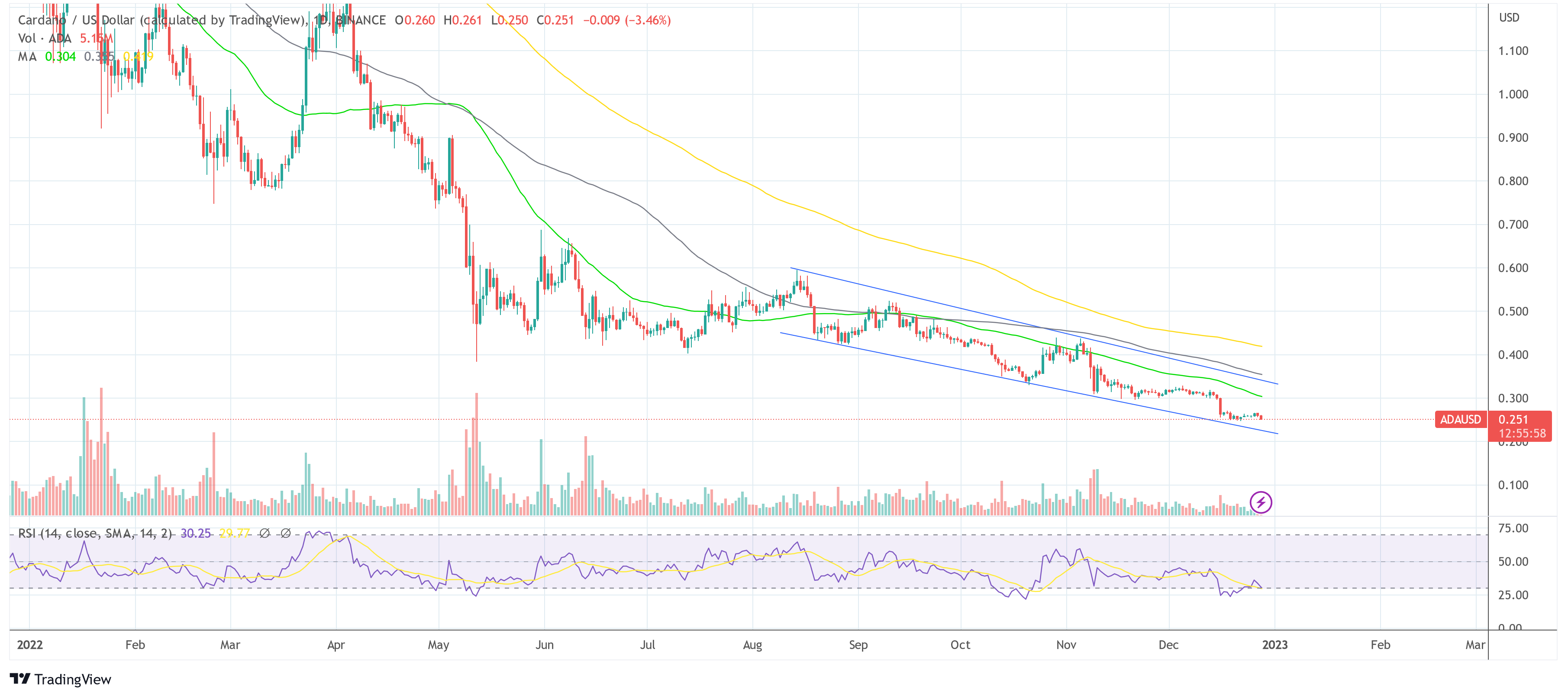 Featured image from AnTa_ranga / Pixabay, Charts from Santiment and TradingView.com