The latest Glassnode data on September 18 shows that the percentage of Bitcoin supply held by long-term holders is close to an all-time high of approximately 76%. The expansion comes when the broader crypto market is recovering after crashing in recent weeks.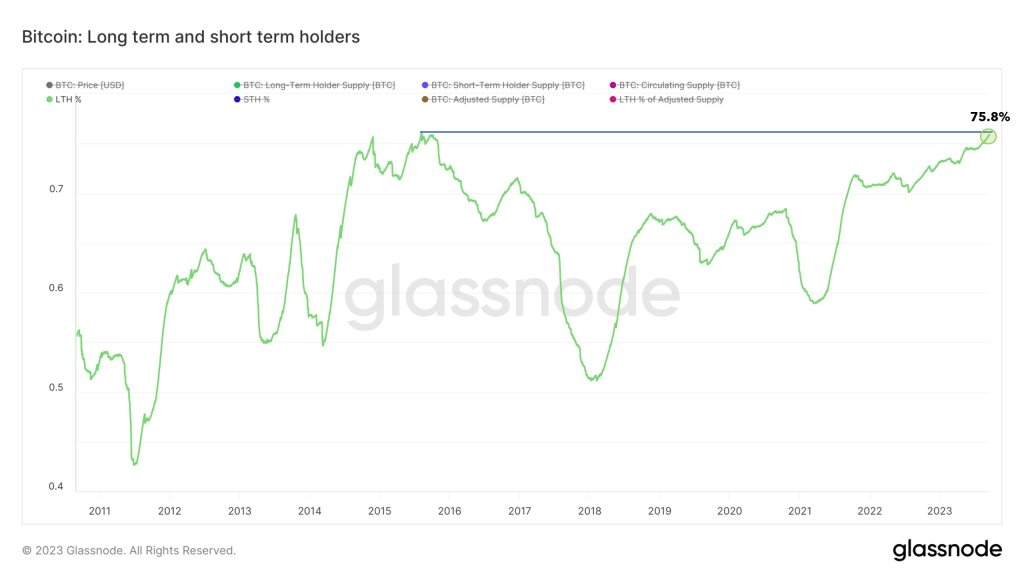 The fact that the amount of coins owned by long-term holders is increasing could indicate a positive shift in sentiment. Long-term holders differ from speculators, who predict and gamble on price fluctuations for financial gain. Long-term holders are individuals or organizations that have kept their coins for at least 155 days. 
According to Glassnode, a blockchain analytics platform, the chances of these entities not spending after holding them for at least five months, is lower. Long-term holders, commonly known as "diamond hands," can support crypto prices by removing coins from circulation.
More Entities HODLing
Bitcoin is inherently deflationary, and only 21 million coins will ever circulate. However, with mining, coins will be continuously added to circulation until all 21 million are mined by 2140. Presently, there are 19.49 million coins in circulation, of which a significant chunk is considered lost or irrecoverable. 
Satoshi Nakamoto, the United States government, and public companies like MicroStrategy hold another portion. According to public data, MicroStrategy, a business intelligence firm, is a publicly traded company HODLing the largest amount of Bitcoin. As of September 19, the firm had bought 152,800 BTC, roughly 15% of the total amount believed to be controlled by the Bitcoin founder, Satoshi Nakamoto.

Bitcoin Adds 10%, Bulls Optimistic
When writing, Bitcoin is up roughly 10% from September lows, recovering steadily from around the $25,200 support. Despite the uptrend and bulls gaining momentum, the path of least resistance, looking at the candlestick arrangement from a top-down preview, is bearish. 
Based on technical analysis, Bitcoin prices are still influenced by the August 17 bear bar, the conspicuous bear candlestick with high trading volumes and wide-ranging that forced prices below $28,000. 
Overall, Bitcoin prices are boxed within the June to July 2023 trade range, and buyers stand a chance as they bounce from key Fibonacci retracement levels. Presently, the medium-term buy target is $31,800 or July 2023 high.
Still, it is yet to be seen how prices will react in the days or weeks ahead. When prices trend higher, BTC HODLers will likely increase as more aim to ride the uptrend before taking profits. Meanwhile, investor sentiment could fall if prices pull back from spot rates, crumbling below $25,000 primary support.
Feature image from Canva, chart from TradingView