On-chain data shows the Bitcoin supply on exchanges has decreased recently as holders have been pushing towards self-custody.
Bitcoin Supply On Exchanges Is At its Lowest Value Since November 2018
According to data from the on-chain analytics firm Santiment, only $29.2 billion worth of BTC is left on exchanges now. There are two indicators of relevance here: the "supply on exchanges" and the "supply outside of exchanges."
As their names already imply, they measure the total amount of Bitcoin currently sitting in centralized exchange wallets and the supply being kept in self-custodial wallets, respectively.
Generally, one of the main reasons investors deposit to exchanges is for selling purposes, so the supply on exchanges can reflect Bitcoin's available selling supply.
Thus, whenever this metric's value increases, there is a chance that the selling pressure in the market also goes up, and BTC observes a bearish impulse. Similarly, if it decreases instead (meaning that the supply outside of exchanges rises), the BTC's price could see a long-term bullish effect.
Earlier, investors used to believe that a supply shock could brew in the market if the supply on exchanges sufficiently decreased. But these days, the market environment is more diverse, so exchanges play a minor role.
Nonetheless, their supply can still hold some importance for the market. Here is a chart that shows the trend in the Bitcoin supply on exchanges, as well as the supply outside of these platforms, over the past year: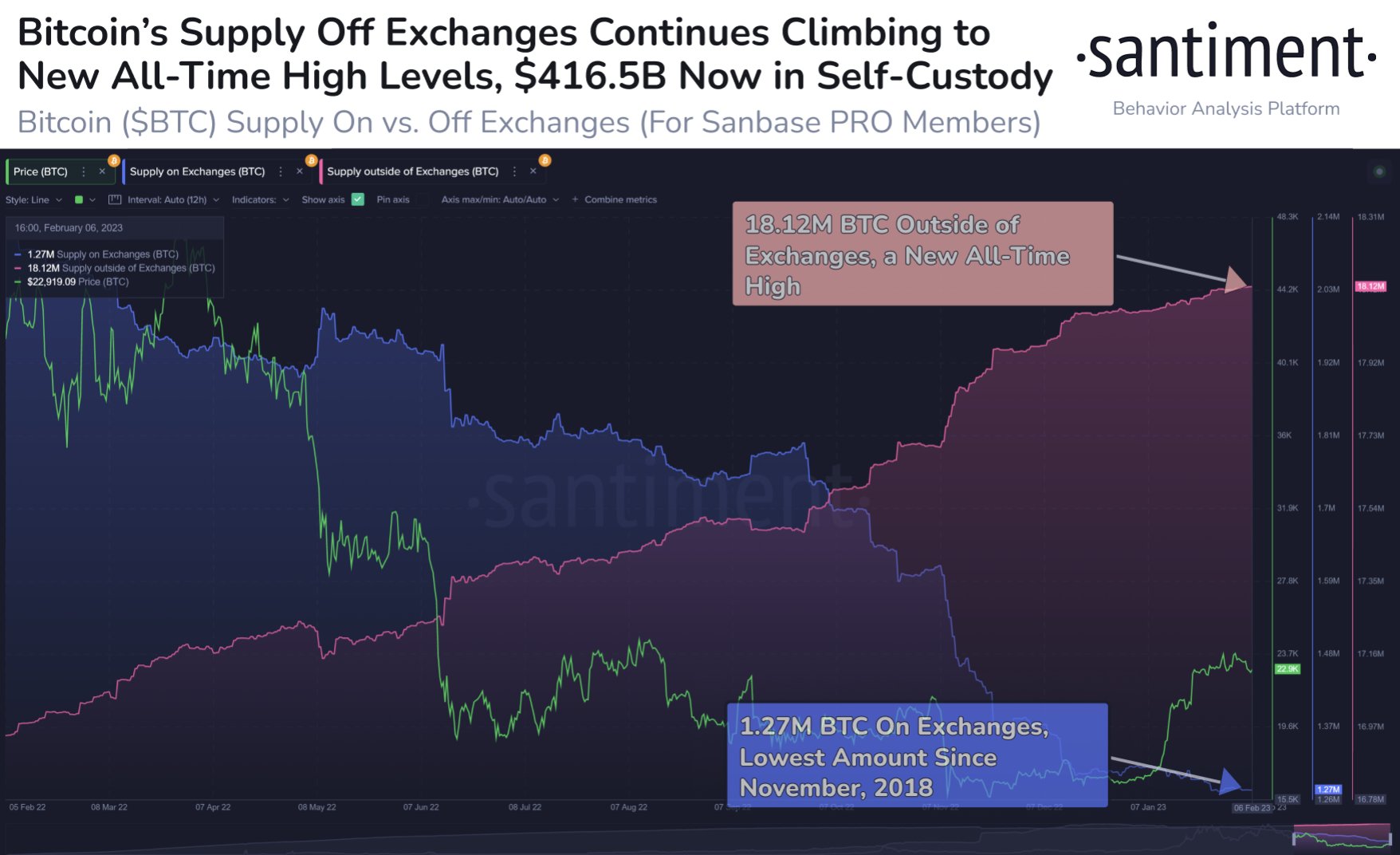 Looks like the value of the metric has declined in recent days | Source: Santiment on Twitter
As displayed in the above graph, the Bitcoin supply on exchanges has been going down for quite a while, suggesting that investors have constantly been taking out a net amount of coins off these platforms.
The most significant decline during the past year came following the collapse of the cryptocurrency exchange FTX, which forced investors to reconsider their trust in centralized platforms, leading to many of them withdrawing massive amounts to self-custodial wallets. Only users hold the private keys to these wallets.
The drawdown of the indicator has continued recently while the price of the cryptocurrency has been consolidating sideways around the $23,000 mark. This may signify that some new accumulation has taken place at this level.
With the latest continuation of the decline, the BTC supply on exchanges, as measured by Santiment, has fallen to just 1.27 million BTC. The supply outside of exchanges has naturally grown while this has happened and has hit a new all-time high of 18.12 million BTC.
This means that the Bitcoin supply outside exchanges is 14.26 times the supply inside these platforms. This dynamic could have a positive effect in the cryptocurrency's price over the coming months.
BTC Price
At the time of writing, Bitcoin is trading around $23,000, down 1% in the last week.
BTC continues to move sideways | Source: BTCUSD on TradingView
Featured image from Kanchanara on Unsplash.com, charts from TradingView.com, Santiment.net