Market observers are closely eyeing the tussle between Bitcoin and its altcoin counterparts. Bitcoin's dominance, a critical indicator of its market influence relative to the entire crypto market, has reached a pivotal crossroads. This juncture holds the potential to determine whether this year's trend of Bitcoin outperforming altcoins will persist or if the heralded "altcoin season" is on the horizon.
Bitcoin Dominance (BTC.D) stands as a percentage value that calculates Bitcoin's market capitalization against the entire global crypto market capitalization. This metric has garnered substantial attention due to its role in reflecting shifts in market sentiment.
Since May 2021, Bitcoin dominance has oscillated within a range of 39% to 49%. However, early June this year marked a breakout from this range, with BTC.D briefly surging above 52% before retracing toward the 49% level in recent weeks. A successful retest of this level could trigger new bullish momentum for BTC against altcoins. On the flipside, a drop below this level could trigger a longer-term drop towards 39%, the range-low which would trigger the start of a new altcoin season.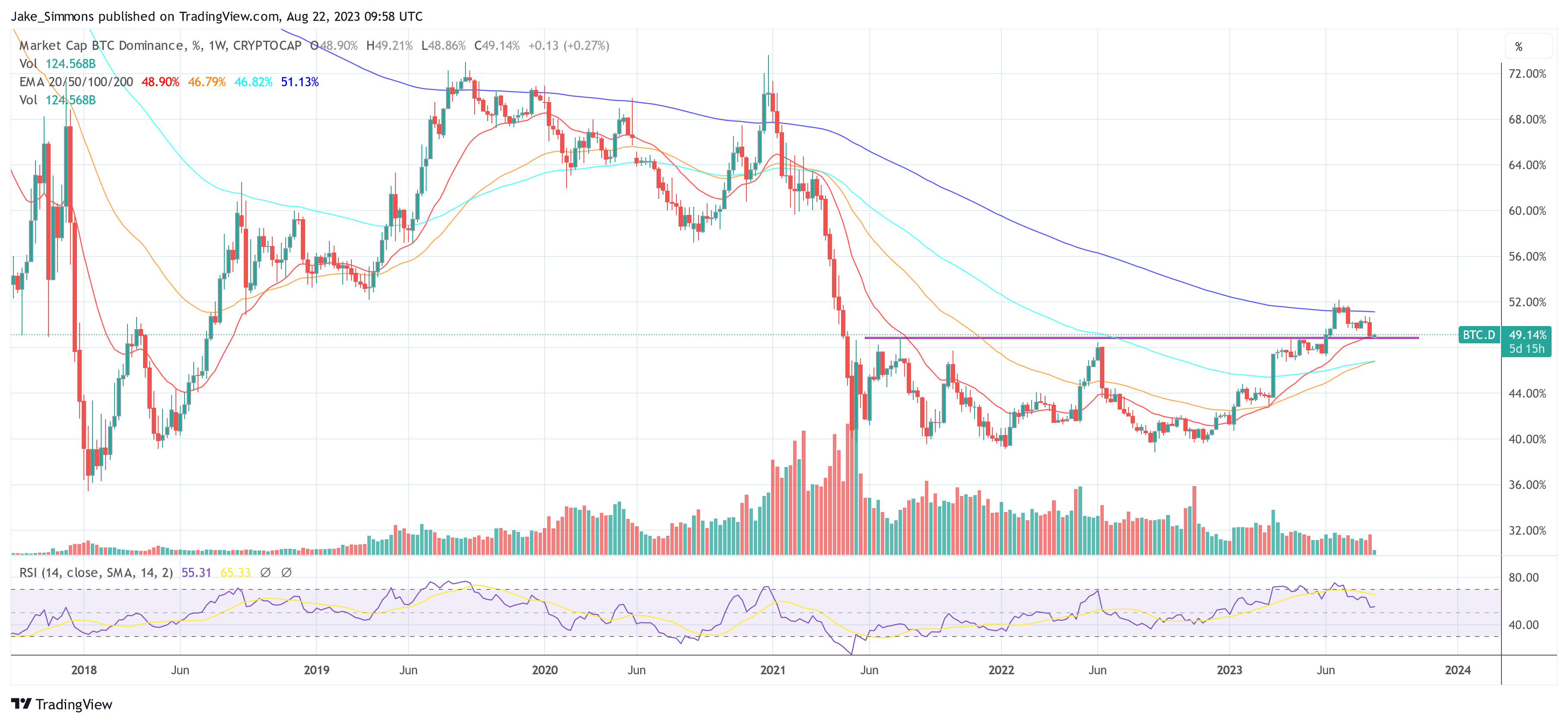 This Is What Bitcoin And Crypto Experts Predict
Daan de Rover, a prominent Crypto YouTuber, emphasizes the importance of understanding the broader market cycle before predicting an "altcoin season." He argues that the current phase, being the pre-halving stage of the Bitcoin cycle, might not be the optimal time for altcoin investments.
De Rover highlights that a minor retracement in Bitcoin dominance shouldn't overshadow the overarching upward trajectory, advising that the right time for significant altcoin investments usually occurs after Bitcoin surpasses its all-time high. "We are currently in the pre-halving stage of the cycle, which is generally not the best time to buy altcoins. Bitcoin dominance might drop by 3%, but this is likely just a minor retracement in a larger upward move." emphasized the crypto YouTuber.
Benjamin Cowen, the founder of ITC Crypto, sheds light on the shifting sentiment, stating, "In June, many said BTC dominance would never break 49% and that alt season was about to begin. Now those same people are dunking on BTC dominance because it had a pullback to 49%. The altcoin casino will remain open until all the money is gone," indicating that the altcoin market's potential is far from exhausted.
Michaël van de Poppe, the CEO and founder of MN Trading, delves into historical patterns to discern the optimal time for investing in altcoins. He suggests that the best opportunity emerges around 8-10 months before a Bitcoin halving, during a period of low market confidence. Van de Poppe indicates that the performance of altcoins often hinges on Bitcoin pairs, asserting that they show interest in the markets and initiate rallies when least anticipated.
Highlighting the cyclical nature of the market, van de Poppe references past instances when altcoin strength followed historical patterns despite market variables. He references examples like Ethereum's cycle low in September '19 and October '15, occurring precisely 252 days before Bitcoin halvings, which heralded altcoin bull runs.
The next two or three weeks will probably decide who is right and whether Bitcoin will continue its dominance or if altcoins will make their move and become the favored asset. Investors should therefore watch BTC.D closely.
Featured image from iStock, chart from TradingView.com